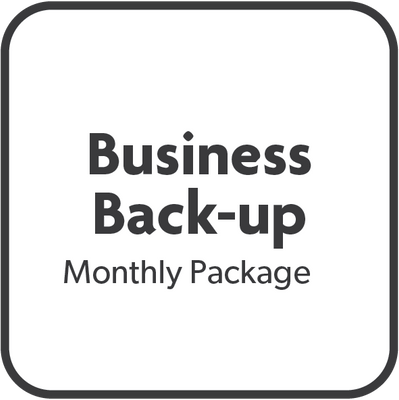 Monthly Business Back-up Package
Regular Services
$57.50
Are you the 'Go to Person' for all aspects of your business? If you we're unavailable due to unexpected circumstances, would your business be able to continue running? With our Annual Business Back-up Package, you can rest assured that if anything were to happen to you, your business wouldn't disappear of the face of the earth.
By providing us with access to necessary software programmes, logins and passwords and having a process in place, we will be able to make sure everything runs smoothly in your absence, whether that is keeping your business going or organising a close down process for you.


What is included in our Annual Business Back-up Package:

A 1 hour meeting with one of our team to discuss situations that could happen and how you want them dealt with + all paperwork for logins and access completed
Safe storing of your logins and passwords for things like:

Emails
Bookkeeping software
Social Media Logins
Payroll software
Bank Logins
Supplier Logins
Plus a lot more

Up to 3 hours spent creating a Process Manual to document the processes we will follow in different situations
Process Manual provided to you in PDF format
Up to 3 hours annually, should you need to use your Business Back-up Package or update things
On Renewal
On renewal each year you will receive steps 1-5 above again so that processes stay up to date
Pricing

A one-off set-up fee of $500 + gst and
$500 + gst annually or
$50 + gst paid monthly on Direct Debit
What our services mean
Hours: These are the Virtual Assistant hours available to you.

Please note: If you require an procedures manual created for your business or certain positions we can also create these at the same time. The creation of procedures manuals is charged at our current Bookkeeping/Administration hourly rate.

Service Terms
General
Every year you will be offered the chance to renew this package (an email will be sent 1 month before expiry). The set-up fee is a one-off fee and will only be charged on set-up not each year.
Hours
All work carried out for you, including phone calls, meetings, emails and any contact we have with your clients or suppliers is charged under the 'Hours' available in your package. Any time over and above your package allowance is charged out at the hourly rate applicable. Please refer to our General Terms & Conditions.
All unused hours in our Annual Business Back-up Package are not carried forward annually.
After purchasing this Package you will receive a plan document outlining the Service Terms specific to this Package, via email. Please view our General Terms and Conditions here.

SKU: 10015-1